Located partly on the island of Murter and partly on the mainland, separated by a narrow sea strait only 38 meters wide, Tisno is the youngest island settlement. It is connected by a drawbridge that is raised twice a day during the summer months. The construction of the bridge began immediately after the collapse of the Venetian Republic, but at the request of other settlements on the island, its construction stopped again. However, it was soon built and remains in that place to this day, although it has undergone a number of reconstructions.
It should certainly be noted that Tisno was the municipal center from 1808 until 1962, when the municipality was abolished and the municipality of Šibenik took over. However, with the creation of the independent state of Croatia, the Municipality of Tisno was re-established in 1993. Today's role of Tisno is a little different. The place remained the administrative center of the municipality, but crafts and trade have been reduced to a much smaller extent for now. The population is still engaged in agriculture, but extensively and with negligible results.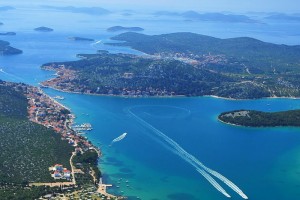 A significant resource of Tisno is medicinal mud and peloids in the Makirina bay, especially for the development of health tourism. Tisno is also a religious center; Believers from the entire Zadar and Šibenik dioceses come to the votive pilgrimage to Our Lady of Karavaj.